At Parisienne Amsterdam you'll find the BerNice earring collection. Each pair of earrings is individually designed, unique and handmade at the Amsterdam studio.
BerNice Earrings
All BerNice earrings are designed by Bernadette, who grew up at the Cote d' Azur and loves the Beauty of the French Riviera. She translates her childhood influences and world travels into her colourful designer earrings. BerNice earrings mix traditional materials as gold, sterling silver and pearls with colourful elements as ray-leather, resin, horn, wood and semi-precious stones. This results in fashionable statement earrings with a charming French style. Each BerNice earring is individually created and handcrafted.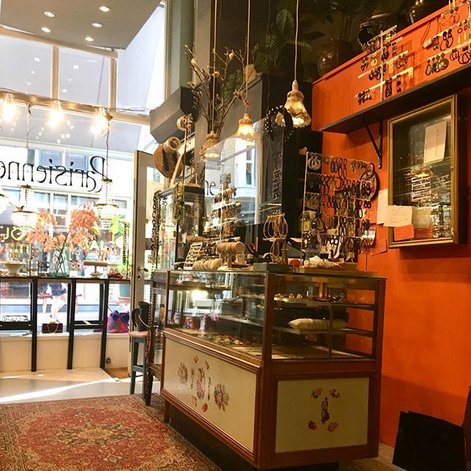 Parisienne shop
In the centre of Amsterdam
Find the most outrageous earrings in this box of jewellery.
You can find lots of designs in almost every colour in our shop.
For 18 years it is our passion is to make everybody happy and treat all our customers with a big smile!
Parisienne shop
In the centre of Amsterdam
Here you will find a fabulous choice of earrings for every occasion. From stylish professional to colourful outrageous, each pair of earrings is full of character.
Parisienne Amsterdam is located in the centre of Amsterdam, in the 9 streets area between the Keizersgracht and Prinsengracht – a few minutes from Dam square.
Choose a Parisienne Gift Voucher for eaarings if you want to surprise a loved one.
We recieve monthly new additions to our range of earrings, so visit us regularly in our shop or see what's new in our on-line shop.